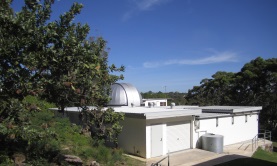 Green Point Observatory is open for meetings every Thursday evening commencing at 7:30pm. Visitors are welcome to attend Guest Speaker Talks and SASI workshops. The Observatory is located at the bottom of a reserve off Green Point Road, Oyster Bay NSW. Follow the path for 100 metres.
Click to view a Map to Green Point Observatory and obtain further directions.
The Sutherland Astronomical Society Inc. (SASI) was formed in 1961 when a small group of people wished to form a society and construct an observatory south of the Georges River. The Society was known, until the late 1970's, as the James Cook Astronomers Club.
Green Point Observatory was subsequently constructed on Council land at the corner of Green Point and Caravan Head Roads, Oyster Bay. Stage 1 consisted of a dome, library and 41cm Newtonian telescope (recently refurbished) and was completed in the mid 1960's. Stage 2, a Meeting Hall capable of seating 50 people was completed in the early 1970's and Stage 3, a roll-off roof observatory and storeroom was completed in 1996.
At present, a state-of-the-art 35cm Schmidt Cassegrain Telescope is mounted in the roll-off observatory. The Society also has a 15cm refractor, 20cm Newtonian, 20cm SCT and 7x50 binoculars for members use.
Some of the major activities of the Society and its members include Deep Sky, Planetary and Variable star observing; Occultations, Grazes and Eclipses; Photography and CCD imaging as well as Public Education Courses.